One of the goals we have at Hostwork is preserving resources.
It makes very good sense from an economical point of view too:
Resources = Money. Reducing waste saves money.
Here's what we've done so far to minimize our impact on the
environment and the resources potentially saved as a result:
Action
Why
Saves
Ratio
Quarterly billing
This makes accounting less tedious for everyone and saves 2/3 of the paperwork required.
Paper
66%
Invoices by email
Unless requested by mail, it saves time and paper.
Paper
100%
Envelope-less invoice mailing
Although we hardly ever send invoices by regular mail, when needed, simply folding our invoices and printing the address on the back saves unnecessary envelopes.
Paper
50%
E-payment
By accepting credit card payments, we save another envelope and it is more convenient.
We plan on accepting checks online as well.
Paper
100%

No bulk mail ads

Most people discard junk mail without reading it and few recycle it. We mostly rely on search engines and word of mouth.
Paper
100%
No brochures
Anything paper can do to present a company, the web can do better. Web pages can be updated, brochures can't.
Paper
100%
Using LCD rather than CRT
Liquid Crystal Displays use far less energy than regular computer monitors, they are gentler on the eyes and radiation-free.
Electricity
75%
Natural lighting
Our Southern California location allows us to use sunlight year-round.
Electricity
100%
No commuting
All our work can be done from any computer and transmitted via the Internet. Much cheaper, cleaner, safer and faster than commuting.
Gas
100%
We use recycled paper and we recycle everything we use.
Reducing our negative impact is only part of our commitment,
we also want to increase our positive impact.
To do so, we use a significant portion of our revenues to finance environmental research and education, and offer free advertising to some organizations.
WHAT YOU CAN DO
Any company can and should take measures to recycle and reduce waste.
A wealth of information is available on the web to help you accomplish this.
Get started now by visiting the EPA's EnviroSense and WasteWise pages.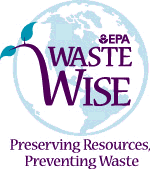 Hostwork International is an EnergyStar® and WasteWise partner.